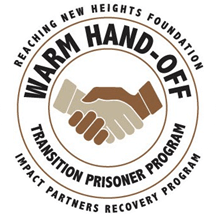 Adult Reentry Grant Program
Our Plan
The Impact Partners Recovery Program submitted by Reaching New Heights Foundation will serve 150 veterans in the SB 840 population in San Bernardino and Riverside County over 36 months. Participants will come through San Bernadine and Riverside County Veteran Treatment Courts along with our annual Veteran Stand Down event. This cohort program will provide BSCC warm handoff services including case management, housing navigation, transportation, food, employment/vocational training, case management services, transitional services, emergency housing and rental support and behavioral health care. Cohorts will obtain education, training and resources leading to employment, secondary and postsecondary education certifications, and housing along with healthcare, food, transportation, and assistance with obtaining or re-establishing military benefits. RNHF has been providing these types of services since 2013 and this program was established in 2017. RNHF plans to collaborate with various CBOs, education, and other partners to complete this work.
For formerly incarcerated with CDCR numbers only.
REACHING NEW HEIGHTS FOUNDATION REENTRY GRANT PROGRAM OVERVIEW Impact Partners Recovery Program (IPRP)
Schedule
Program Cohort Detail:
Each Cohort Program 7 Weeks long / Graduation and Certificate of Completion (Week 7)
Participants: 10 Per Class
Frequency: 4-Days Weekly
Duration: 3-Hour Classes 10AM – 1PM
Year 1 – (6) COHORTS: January 2023 – December 2023
January 23rd – March 10th
March 27th – May 12th
May 29th – July 14th
July 31st – September 15th
October 2nd – November 17th (Stand Down Event / Job Fair October) November 17th (Graduation/Food Distribution)
December 4th – 7th (Citizen Scientists Activities- all participants) December 8th (Repeat Workshops) Citizen Scientists – Journaling Experiences
For formerly incarcerated with CDCR numbers only.
Reaching New Heights Foundation, Inc.
4053 Chestnut St., Suite 203
Riverside, CA 92501
Click Here for Map & Directions
320 N "E" St., Suite 507, San Bernardino CA 92401