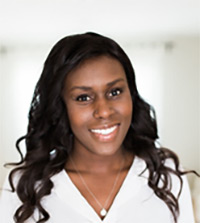 Niani Coker MPH, CHES®
Project/Program Specialist, Health Educator
Currently, she works for the Public Health Institute as a Project Specialist for Tracking California's Sickle Cell Disease program. As a project specialist, she is responsible for organizing multiple state, federal and privately funded grants focusing on surveillance of sickle cell and sickle cell trait. Among her scientific interests are raising awareness, increasing knowledge, and changing attitudes about Sickle Cell Disease for both lay and professional audiences.
Niani Coker is public health professional, certified health education specialist, and wellness enthusiast. She earned a bachelor's degree in Kinesiology from Cal State University Northridge and a master's degree in Public Health with an emphasis in community health education from Cal State University San Bernardino. Niani considers herself to be a lifelong learner constantly seeking new ways to learn and make an impact in the lives of Veterans and others.
Niani's experience as a Health Educator has given her the opportunity to work with many diverse groups of people. She understands the importance of listening to people's various situations to help them overcome significant socio-economical barriers that prevent them from making healthy decisions about their nutrition and physical activity. Niani is passionate about helping marginalized communities find simple ways to live a "more balanced life" Niani believes that a healthy diet and active lifestyle can truly change the world one person at a time.
"Serving Those Who Served"
Reaching New Heights Foundation, Inc.
4053 Chestnut St., Suite 203
Riverside, CA 92501
Click Here for Map & Directions
320 N "E" St., Suite 507, San Bernardino CA 92401