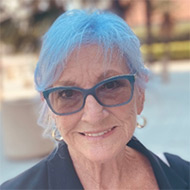 Laurel Cook – Boulan
After 26.7 years of employment with the County of Riverside, Laurel Cook-Boulan retired as a Supervising Probation Officer in 2009. While working with Riverside County Probation, she enjoyed a variety of assignments which included adult and background investigator, juvenile institutions, intake, diversion, and supervision. She was recognized as the Juvenile Probation Officer of the Year in 1998 for her 15 years of service and her dedication to the Juvenile Drug Court where she served as the Drug Court Coordinator, working with the court and treatment professionals to develop and manage the first intensive drug treatment program for the youth of Riverside County. Since her retirement, Laurel works as a court liaison for a private criminal justice agency which provides electronic monitoring services as ordered by the court.
She also volunteers her time as a Commissioner of the Juvenile Justice and Delinquency Prevention Commission and is on their executive committee. She is a lifetime member of the California Probation, Parole and Correctional Association and continues to serve on their legislative committee. Laurels late husband was a Vietnam veteran, who served in the US Marine Corps. She is member of the Daughters of the American Revolution and often attends the monthly memorial service at the Riverside National Cemetery and participate in the "Unsung Heroes" services. This service is conducted by Marine Corps veterans for those veterans who had no family or friends to attend their burial.
"Serving Those Who Served"
Reaching New Heights Foundation, Inc.
4053 Chestnut St., Suite 203
Riverside, CA 92501
Click Here for Map & Directions
320 N "E" St., Suite 507, San Bernardino CA 92401